Replace a whole arch of teeth with innovative All-on-4 dental implants. If you have lost your teeth or want to replace ill-fitting dentures with comfortable, stable and natural-looking teeth then this new technique may be just what you're seeking.
Also known as "same day teeth" or "same day smiles," All-on-4's can be carried out in a single visit on patients who have previously lost their teeth or are currently wearing dentures. For patients who require extractions, the procedures can be completed in two visits, around six months' apart, allowing time for the bone and soft tissue to heal after the extractions.
What Are All-on-4's?
All-on-4 is a dental implants technique that refers to four dental implants supporting all the teeth in either your upper or lower jaw, or both.
A dental implant is a metal "screw" that is placed into the jawbone. Over time, the implant fuses with the bone (a process called osseointegration), acting like a tooth root, and providing a solid and stable support for a crown, or "false tooth," to be attached.
In All-on-4's, the four dental implants are placed in the jaw at an angle, rather than straight, as with a normal dental implant. A bridge is then affixed to the implants, locking them together. The two rear implants tend to be longer for All-on-4's, inserted into the jaw at at 45-degree rather than the 90-degree angle that traditional implants are placed, which often negates the need for bone-grafting. This technique is a suitable solution for many patients who previously could not have implants due to bone loss.
Are All-on-4's a Suitable Treatment for Dental Tourism?
All-on-4's are a good option for dental tourists. The primary reason most patients cross borders for their treatment is affordability – with All-on-4's costing around US $25,000 (CAN $33,000; UK £20,000; EUR €23,000; AUS $32,000; NZ $35,500) savings of 50-70% are not to be sniffed at.
For some people who have already been wearing full dentures and do not require teeth removed, All-on-4's can be fitted in one day, and the cost and inconvenience of a return trip may not be required.
Patients requiring extractions may experience some discomfort for a day or two, and can recover in the surroundings of a relaxing destination.
What is the Procedure for All-on-4 Treatments?
1. Assessment: Your dentist will conduct a thorough examination, taking x-rays and scans to assess the anatomical structures in your mouth and the extent (if any) of bone loss. If you are suitable for the All-on-4 procedure, impressions will be made of your mouth and sent to the laboratory for manufacture of your new teeth.
2. Treatment Day: The procedure can be carried out under intravenous sedation or local anesthetic. It typically takes around two hours per jaw. If you need to have any extractions, these can be done at the same time, and the areas around the extraction sites cleansed thoroughly.
The dental implants will be inserted into the jaw. Two are placed in the front of the jaw, and two at an angle at the rear. A temporary arch of teeth will be placed, lighter than a permanent restoration, allowing your mouth time to heal.
3. Permanent Restoration: If an extraction or extractions were required, you'll need time to heal and will return to your dentist after a few weeks to have your permanent teeth (crowns) affixed.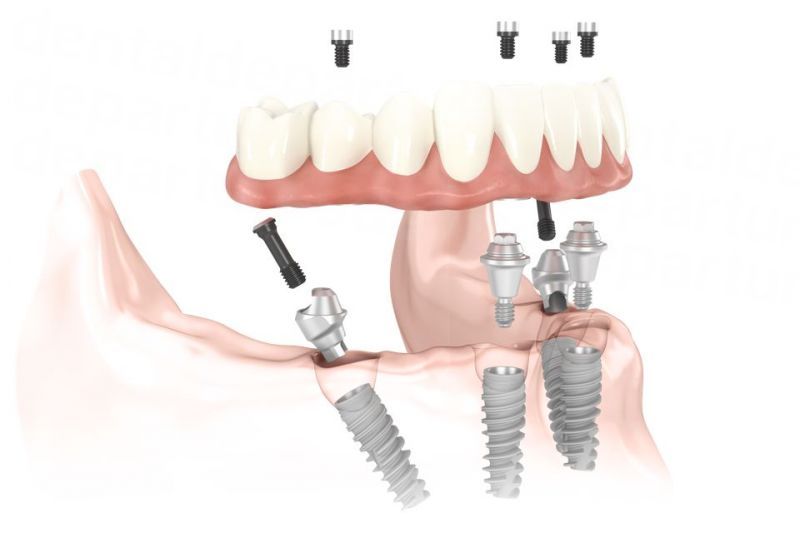 Do All-on-4's Need Special Care?
When your implants have first been placed and you have a temporary bridge, you will be advised to eat soft food for a while – certainly not anything chewy or hard that could interfere with the osseointegration process.
Apart from maintaining a healthy oral hygiene regime – with careful brushing, flossing and regular check-ups, you should not have to do anything different. Your new smile should give you years of good service and will feel, look and act just like your own teeth.
What are the Costs of All-on-4's around the World?
In the United States, All-on-4's cost, on average, $25,000 (CAN $33,000; UK £20,000; EUR €23,000; AUS $32,000; NZ $35,500)
At a Mexico dentist, they cost US $10,000 (CAN $13,600; UK £7,600; EUR €8,900; AUS $13,400; NZ $13,400)
At a Thailand dentist, they cost US $11,000 (CAN $15,000; UK £8,400; EUR €9,800; AUS $14,800; NZ $15,800)
At a Bali dentist, they cost US $4,200 (CAN $5,700; UK £3,200; EUR €3,700; AUS $5,600; NZ $6,000)
What About the Quality of Dental Care Abroad? Is it Reliable?
World-class dental clinics can be found in many international destinations, provided you select a suitable dentist with care. This includes the obvious, such as vetting dentist qualifications–how long they have been qualified as a dentist? Have they had specialist training? Are they members of any overseas professional organizations, for example, the International Congress of Oral Implantologists? You should also check out the clinic. Is it accredited locally or internationally? Do the premises look cared for? Is the clinic signed up to any international protocols, like the International Organization for Standardization?
One way of ensuring you are heading to a quality-checked clinic is by booking with Dental Departures. We conduct background checks on dentist qualifications, professional memberships and clinic affiliations. We also perform onsite visits, collect verified patient reviews, and publish them on our website. With clinic photos, pricing, maps and other useful information, you can search for a dentist and destination, compare prices and book an appointment in confidence.
How Do I Get Started?
Determine your desired destination, then search our site for the best dentists in the area. Know before you go: read our verified patient reviews, view clinic photos and take virtual tours of our clinics. Then call our toll-free number or book with us online for great care at the best available prices!
Sources:
David Soto-Penaloza, "The All-on-Four Treatment Concept: a Systematic Review,"Journal of Clinical and Experimental Dentistry, 2017
International Congress of Oral Implantologists
International Organization for Standardization
"All-on-Four Treatment Concept Procedure Manual," Nobel Biocare, 2015