Your Ultimate Guide To Dental Crowns in Istanbul
Do dental crowns in the UK cost too much? If so, Istanbul can help you. Dental crowns in Istanbul have 3 benefits – quality, safety, and affordability.
Want to know more? You're in the right place!
This article guides you through the cost, dentists, and the best crown clinics in the city. So, read on!
Dental Crowns in Istanbul Review
Why Should I Get Dental Crowns in Istanbul, Turkey?
Dental crowns can save severely damaged teeth.
They are expensive, but traveling to Istanbul for your procedure is a great way to save money.
Check out the other reasons to choose dental crowns in Istanbul, Turkey:
Affordable prices
Crown prices in Istanbul can be 80 to 90% cheaper than in the UK and US since the cost of living is 81% less than in the UK. [1]
Single-day crowns
State-of-the-art CAD/CAM technology in Istanbul makes it possible to receive your dental crown in one day.
English-speaking dentists
Dentists in Istanbul associated with us speak English in addition to other languages, so nothing gets lost in translation.
Direct flights
Direct flights run from Istanbul to London and many other major European cities. [2]
Beautiful city
Istanbul is a popular vacation destination with a rich history that dates back more than 2,700 years. [3]
How Much Do Dental Crowns Cost in Istanbul, Turkey?
By getting your dental crowns procedure in Istanbul, you can save up to 80-90%.
For example, in the UK, zirconia and porcelain crowns cost €750 and €700. But in Istanbul, they cost around €150 and €100 respectively.
Check out the cost comparison table below for more prices:
| Type of Crown | US | UK | Istanbul |
| --- | --- | --- | --- |
| Porcelain crown | €1,700 | €750 | €79 – €170 |
| PFM crown | €1,200 | €850 | €79 – €130 |
| Zirconia crown | €1,775 | €700 | €140 – €255 |
| Emax crown | €1,775 | €700 | €220 – €345 |
| Maryland Bridge | €1,500 | €1,200 | €79 – €130 |
Please note that the above costs are indicative. The actual cost varies from case to case.
What Are the Top Dental Clinics in Istanbul, Turkey?
We recommend DentSpa, a well-known clinic in Istanbul. They offer high-quality care in a soothing atmosphere.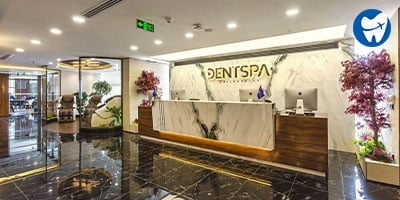 Teşvikiye Mah. Hakkı Yeten Cad. No:11 Terrace Fulya Center 1 K:M4, 34365 Şişli
Dental crowns often take multiple follow-ups, but DentSpa uses CAD/CAM technology to design and cement your crown in a single appointment.
The highly-qualified dentists at DentSpa speak more than three languages, including English, Turkish, and Russian.
The clinic is ISO certified (ISO 10002:2018, ISO 45001:2018, and ISO 27001:2013). So it meets internationally accepted quality and safety standards.
Who Are the Best Dentists in Istanbul, Turkey?
Here are some of the best dentists in Istanbul, Turkey:
---
Dr. Madina Gulverdiyeva
12 Years of Experience
PhD
Expertise
Dental implants
Education
Gazi University, Faculty of Dentistry, Department of Prosthodontics
Dr. Tuğçe Akın
10 Years of Experience
DDS
Expertise
Dental implants
Education
Başkent University Faculty of Dentistry
What Is a Dental Crown?
A dental crown is a cap that protects a weak or damaged tooth. [4]
A dentist may recommend one for a variety of reasons, such as: [5]
protecting a tooth that's cracked or decayed
restoring a broken or severely worn-down tooth
covering a discolored or distorted tooth
covering a tooth after a root canal
covering a dental implant
holding a dental bridge
covering a large filling
Traditionally, dental crowns cover your entire tooth. Other types of crowns such as onlays or ¾ crowns only cover part of your tooth.
Dental Crown Procedure
Here's how a same-day dental crown is fixed: [6]
Your dentist prepares the tooth.
Images of the tooth are captured using CAD/CAM technology.
A milling machine carves out a crown that fits your tooth precisely.
The dentist attaches the crown to your tooth with dental cement.
Types of Crowns in Istanbul, Turkey
---
Metal crowns in Istanbul
Metal crowns rarely chip or break. [7] They are made from gold, nickel, or chromium and are used for teeth at the back.
It can take 1-3 days to get a metal crown fixed on your tooth.
---
PFM crowns in Istanbul
These crowns match your natural tooth color. They can be used for both front and back teeth. [8]
It usually takes 2-3 days to get one PFM crown in Istanbul.
---
All-ceramic crowns in Istanbul
All-ceramic crowns can give a very natural appearance but are weaker than metal or porcelain-fused-to-metal crowns. [9]
It takes 4 days to get one tooth fixed with an all ceramic crown in Istanbul.
---
All-porcelain crowns in Istanbul
All-porcelain crowns also give a very natural appearance and generally make a good choice for front teeth. [10]
Like the all-ceramic crowns, getting all-porcelain crowns in Istanbul also takes 4 days.
---
Watch our dentist explain the types of dental crowns
Dental Tourism in Istanbul, Turkey
Owing to affordable and high healthcare standards, its bazaars, and cuisine, Turkey has become a well-known hub for medical and dental tourism.
Be sure to visit a bazaar for a low-cost shopping spree – you can find clothes, spices, and intricate houseware.
If your dentist says that it's ok to have solid and hot food, do try these famous dishes – Simit, Sis kebab, Lahmacun, and Turkish coffee.
Istanbul dome
When in Turkey, keep the following in mind:
Although Istanbul is a beautiful city that's generally safe, it's still a good idea to be vigilant for tourist scams. [11]
Having Google Translate may be handy.
Remove your shoes and remain silent if you visit a mosque.
Some handy local emergency numbers are:
Emergency Numbers
| | |
| --- | --- |
| Department | Number |
| Ambulance | 112 |
| Police | 155 |
| Fire | 55 |
| Tourism Police | (0212) 5274503 |
Conclusion
Are you still wondering if getting dental crowns in Istanbul is right for you? You can contact us and we shall assign a dedicated case manager to support you.
Trust us, Istanbul will be the perfect blend of culture, cuisines, and dental work!
Frequently Asked Questions (FAQs)
The cost of dental crowns in Istanbul is varied. It mainly depends on the material used.
You can save up to 80% if you get your crowns in Istanbul compared to the UK.
Here is a list of some popular dental crowns in Istanbul:
Emax crown – €345
Zirconium crown – €225
PFM crown – €120
Temporary crown – €15
The above cost is for 1 crown and it may vary based on the complexity of the case. To find out the exact cost, you can speak to one of our case managers.
Usually, getting a dental crown in Istanbul takes 3-4 days. Your dentist first takes images and an impression of the tooth.
They then take these to a lab for fabrication of the crown. During the next appointment, your dentist will fix the crown and adjust it to fit perfectly.
Hence, you may need to plan a trip of about 4 days. You may also be eligible for same-day crowns.
To get a proper estimate of your dental trip, you can speak to one of our dentists for free.
Since they follow the same manufacturing process and standards, dental crowns from Istanbul should last as long as crowns from other countries.
In a 2018 study, researchers found that 53 % of crowns survive 15 years, 63 % last 10 years, and 77% last 5 years. [12]
The amount of wear and tear on your teeth influences how long your crown will last.
Habits such as biting your nails, chewing ice, or grinding your teeth can wear crowns down faster.
Your local dental insurance is unlikely to cover the cost of dental treatment in Istanbul.
Some private insurance companies do cover certain procedures. Hence, it's a good idea to check with your provider.